Offshore Electronics' apprentice winner of profession for Apprentice of the Year 2019
3rd October 2019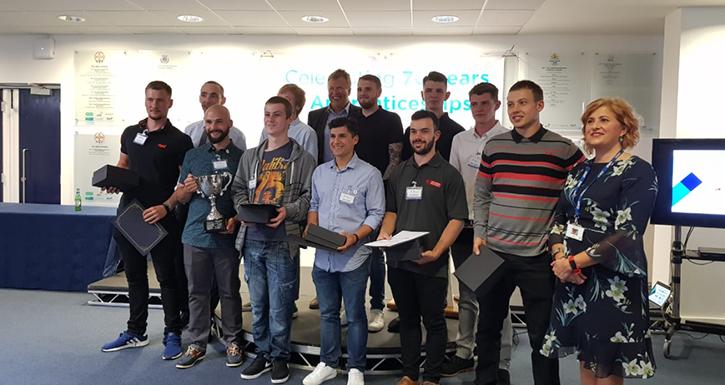 We're pleased to announce that our electronic engineer apprentice, Matt Renouf has been awarded winner of his profession for Apprentice of the Year 2019.
Every year both employers and apprentice tutors are offered the opportunity to nominate an apprentice for the Apprentice of the Year awards. Organised by the local college, the Guernsey College of Further Education, the awards acknowledge the dedication of apprentices involved in the Guernsey Apprenticeship Scheme, which marks its 70th anniversary this year.
A total of 40 apprentices were nominated for Apprentice of the Year 2019, these were then shortlisted down to 12 who represented a winner from each profession. Matt, who specialises in test engineering, was put forward for the award by Giles Cleal, test manager here at Offshore Electronics.
As a shortlisted apprentice, Matt was invited for an informal chat to discuss his apprenticeship, what he has achieved and hopes to do with his career to decide on an overall winner. He narrowly missed out on the top slot but was still awarded a trophy and certificate for representing his profession.
With the development of advanced networks and the automated transport revolution, there is a strong and growing demand for good electronic engineers in the industry.
Giles said, "I'm proud that Matt's hard work has been recognised and rewarded. We pride ourselves on training the next generation and giving them the opportunities to gain valuable experience that will hopefully lead to a rewarding career."
Back in 2017, Matt joined us for a summer work experience placement as part of his college course. We were so impressed, with both his work ethic and attitude that we offered him an apprenticeship in our test department. Matt is due to finish his apprenticeship in 2022.
Matt said, "I am very fortunate to be a part of the apprenticeship scheme here at Offshore Electronics. Not only has it shown me the knowledge and skills you can learn while studying and learning hands-on but how far it can take you in life. Giles and Paul van der Tang started their careers at Offshore Electronics, both as electronics engineering apprentices and now have over five decades worth of experience between them."