10 year partnership behind success of the Halo Scanner
17th November 2022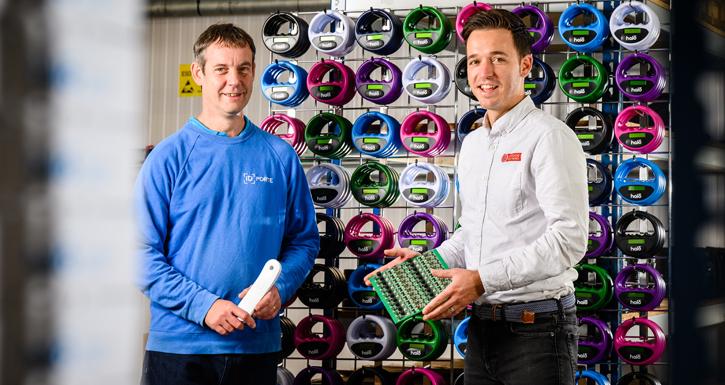 This Autumn, a local partnership between Offshore Electronics and iD Porte celebrates its 10th year.
Partnering with customers to provide outsourced electronics manufacturing services, Offshore Electronics works globally producing the circuit boards that drive industry and consumer electronics, employing 70 staff at its purpose-built and state-of-the-art manufacturing facility in St Peter Port, Guernsey. Continued investment in people, the plant and equipment has been paramount in meeting the ever-changing requirements of their customers over the past 32 years. In parallel to this, creating and maintaining long-standing relationships has been key to their success and future prosperity.
One such example of a relationship which has blossomed over the past 10 years is with iD Porte, a locally owned innovator and manufacturer right on their doorstep. After early success with the Pet Porte cat flap, in 2010 iD Porte started prototyping the Halo scanner, for identifying lost or stolen microchipped dogs. Through the use of RFID (Radio Frequency Identification) technology the scanner references a database that has since reunited thousands of pets with their owners in many countries around the world.
On hearing that the first batch of Halo scanners proved a success, there was a need to scale up production and Offshore Electronics approached iD Porte at the end of 2012. Investment in the best and most advanced electronics manufacturing technologies has helped Offshore Electronics maximise quality, precision and repeatable productivity; values which are at the heart of the relationship's success. Dan Attewell, Technical Sales Director at Offshore Electronics explains more about how when he first met Nick Smith, Technical Director at iD Porte and got the project started "When we first met, Nick's passion for their product was clear to see. After reviewing the data and successfully quoting, we had our first purchase order in September 2013 for the Halo product, since then we have built 220,000."
The ethos of keeping as much as possible local has some obvious benefits for this manufacturing partnership, as the proximity between the two production facilities ensures quick delivery of products and in-person meetings. This advantage was highlighted by recent challenges around travel brought on by the COVID-19 Pandemic. This is not to say Guernsey is completely insulated from the outside world, as the ripple effects of both the pandemic and Brexit have seen supply chain issues becoming more of a challenge, forcing changes to some components.
At the heart of each, the shared principles and engineering pedigrees that created this partnership 10 years ago, still ring true now with both businesses being ISO 9001: 2015 certified.
Nick Smith, explains more; "having the partnership with Offshore Electronics allows us the comfort and confidence that our production electronics boards will arrive right first time and reduces the need to implement costly testing and repair regimes."
The success has now led to the full production of a second product, the Porte Locator, commissioned by Costa Rican registered Established Labs. The Motiva Flora® Porte Locator enables surgeons to accurately locate and fill breast implants once inside the human body. Expandable breast implants can be gradually filled by surgeons during breast reconstruction following mastectomies using the Port Locator's integrated RFID port. Rigorously tested and FDA-approved, it is hoped this device will be life-changing for many.
Future projects and collaborations with new industries in which RFID technology can be utilised, are continuously being investigated, as this successful partnership looks to continue flourishing and in turn, support Guernsey's vibrant manufacturing industry.