Guernsey based Offshore Electronic's apprentice in the top two winners of Apprentice of the Year
21st June 2017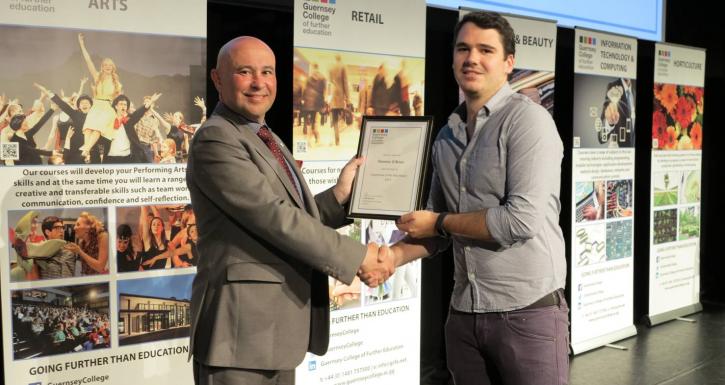 Dominic Obrien, 22 year old Electronics Engineering Apprentice at Guernsey based Offshore Electronics, has been awarded the runner-up title of Apprentice of the Year 2017 by the Guernsey College of further education.
Dominic, who specialises in test engineering, was put forward for the award by his Manager, Giles Cleal. After being shortlisted in the final nine out of the 25 original nominees, Dominic was interviewed about his apprenticeship and his aspirations by a panel of judges. Impressed with his answers, he narrowly missed out on the top slot, instead being awarded the title of runner up. His award was presented by Guernsey Deputy Carl Meerveld.
Giles Cleal is delighted with the result: "I'm extremely happy that Dominic's hard work in our test department has been officially recognised and rewarded. We take great pride in our apprenticeship programme, which is developing the knowledge and skills of a number of aspiring young engineers from around Guernsey. It's great seeing the progress of our apprentices over the years and especially Dominic's success."
Dominic joined Offshore Electronics in 2012 and is due to finish his apprenticeship in August 2018. As a valuable member of the Offshore team he hopes to stay on as a full time test Engineer.