Investing in local engineering talent
10th March 2021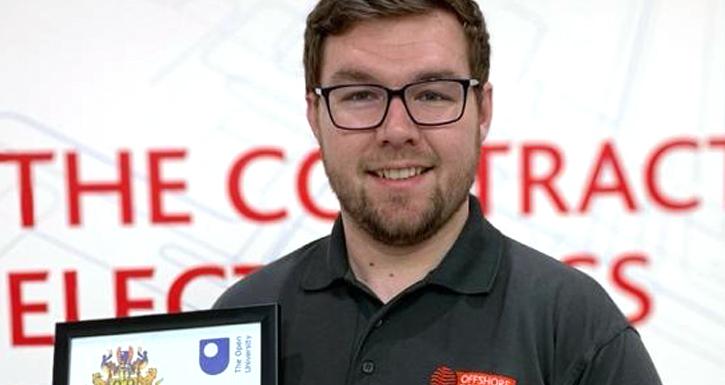 Hats off to Sam Loveridge at Offshore Electronics, who has graduated with a Bachelor of Engineering degree from The Open University.
As a company with a strong focus on employee progression, MD of Offshore Electronics, Steve Marshall commented "we are proud to have supported Sam in this fantastic achievement and remain committed to encouraging our employees' continued professional development".
Sam was introduced to Offshore Electronics through a part-time summer job at the age of 15 and upon finishing A-levels a few years later, he initially joined the Test Department as a full-time apprentice. Progressing quickly and completing the apprenticeship by 2014, Sam began looking to advance his skills with a new challenge.
The Open University's BEng tied in closely with Sam's role and the degree (a part-time commitment over six years) included compulsory modules, exams and lab experiments carried out remotely. Promoted to Quality Engineering Manager in 2016, Sam began his new role leading the Quality Department in addition to continuing to study in his free time.
A highlight for Sam was the two-week intensive 'live' course held at Bath University, where he conducted a range of practical experiments across different fields of engineering. With ongoing professional support, he continues to apply the conceptual, practical and academic skills gained to his daily work at Offshore Electronics.