Investing in People
6th November 2023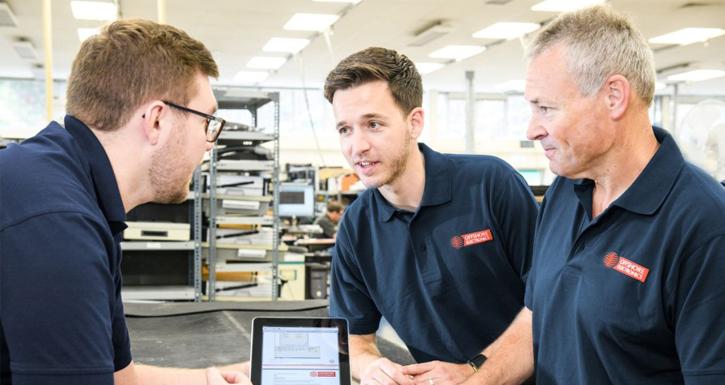 Offshore Electronics Continues to Pave the Way in Contract Electronics Manufacturing.
Offshore was founded to offer the best contract electronics manufacturing services and people have remained at the heart of that mission from the beginning.
The Foundation
We were founded in September 1990 following a successful management buy-out from Eurotherm Guernsey. And it's been a story of long-lasting success in contract electronics manufacturing ever since. Central to that story is a team of truly talented engineers. Three of the original management remain at Offshore Electronics including, Steve Marshall, Managing Director; Annah Jones, Materials Director; and Paul Vandertang, Purchasing Director. Collectively, they boast 130 years of experience and have consistently delivered beyond expectations for over four decades.
Putting Colleagues First
At the heart of our success is a dedicated and invested team of 70 working at our purpose-built manufacturing facility in St Peter Port. We've continued to invest in people over the last four decades, which has seen our colleague retention rate sit at 11.5 year – much higher than the industry average.
Many of the team have been with the company for decades, offering a unique blend of skill, experience and knowledge. This has been fundamental to our long-lasting relationships with customers, suppliers and partners, even as the market has shifted over time.
The company is also entirely locally owned and therefore we benefit from leadership that is rooted in engineering knowledge and a sound commercial instinct. This has allowed Offshore to provide a standard of service that is rarely – if ever – seen with other outsourced partners.
It's also given us financial security, allowing us to thrive even when the European market hasn't been favourable for OEMs.
Rewarding Service
Jeff Da Le Mare is a prime example of the talent Offshore has recognised and rewarded over the years. Progressing his way from Test Engineer to Test Manager, promotion to become Production Director before more recently taking on the role of future Managing Director, Jeff is proof of the talent and dedication found throughout all levels of the business.
Having been with the company since the Eurotherm days, Jeff's career has been full of invaluable industry insights and experiences, putting the company on a solid footing for future success at he takes the top job.
Developing Talent
Our talented, homegrown workforce is in part down to the company's long-standing apprenticeship scheme and engagement with local schools and colleges. This commitment to nurturing young talent has led to promotions of many employees who first joined the company through the scheme.
Proven progression routes mean that many of the current directors at Offshore began their careers as Test Engineers, including Sam Loveridge, current Quality Director, Dan Attewell, current Technical Sales Director, and Mark Mauger, current Production Director.
Much of our longevity is thanks to continuous staff and process improvement within the company. With regular appraisals, training and mentoring from the most junior employees to established directors. This is the reason for our high retention rates and ensures everyone has a clear career path and opportunity for development at Offshore Electronics. Demonstrating this is Jack Lucas, Purchasing Director Designate, as he undertakes on-going training and close monitoring. Combined with a wealth of previous commercial experience, Jack has the motivation to make a career out of his role. Starting as a buyer and moving to manager of his department, Jack has high hopes to move to Offshore Electronics' board in the very near future.
The Next Generation
Staff loyalty has also seen several generations of the same family come through the production department, testament to the company's people-first approach to business. Founding member Paul Vandertang, started out as an apprentice at Eurotherm before working his way through the ranks. While Paul was working as a Test Engineer, the management buy-out team recognised that they needed technical ability within the purchasing department. Paul rightly jumped at the opportunity and hasn't looked back since.
Joining the business in 2010, Paul's son, George Vandertang has since followed in his father's footsteps and is making waves in the test department. Starting his career as an Apprentice Test Engineer, George has made great progress and now runs the test department while also joining the management team. Both George and Paul have shown great attention to detail and the ability to think outside the box which has paid dividends through their individual career paths. George's technical ability is also a huge benefit to his team of operators.
Long-term Vision
Offshore was founded to offer the best contract electronics manufacturing services and people have remained at the heart of that mission from the beginning. Some of our most senior Directors are now handing over the reins, knowing they have put the foundations in place for another four decades of success.