Offshore Electronics future-proofs its manufacturing services
17th January 2017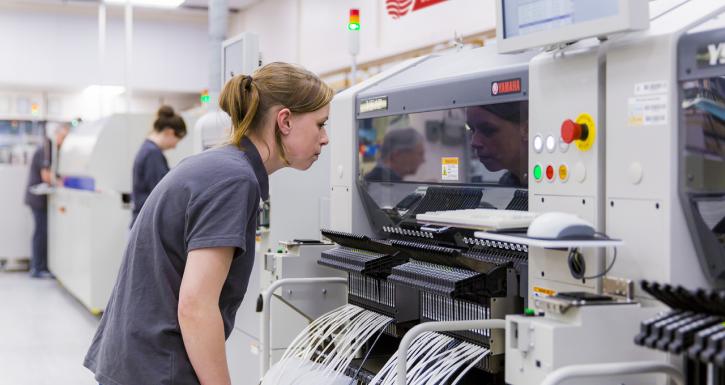 A newly installed and commissioned surface mount production line at Guernsey based Offshore Electronics has delivered step changes in terms of precision, speed and capability for this highly successful, privately owned contract electronics manufacturer.
The new production line specification includes a Yamaha YCP10 precision screen printer with SPI, a pair of Yamaha YS12 and YS12F (ATS) high speed precision placement machines together with a Heller 1707MKiii reflow oven. This significant investment will give customers the confidence that Offshore Electronics (OE) will be able to meet their production needs well into the future as continuing component miniaturisation places ever greater demands on the precision and repeatability of manufacturing systems. The Yamaha line, representing a total investment (including infrastructure and lighting) of £500,000, has been configured for batch flexibility and accurate placement repeatability while being capable of as many as 56,000 placements per hour.
Complementing OE's two existing Philips GEM lines (essentially Yamaha systems badged and marketed by Philips in Europe until a few years ago), the Yamaha software platform is both forwards and backwards compatible in terms of product build data, the all-digital line features rapid kit changeover and a vastly improved electric 'intelligent' feeder solution. Moreover, the common software platform will enable OE to move customers' PCB build data from a central server between machine platforms with minimal manual intervention.
The new equipment has vastly increased the range and type of component packages that OE can fit for its customers. For example, the smallest component size that the current Philips lines are capable of placing is a 0402" chip component package. The new line will enable placement of much smaller devices that are only now coming on to the market - 01005" chip component sizes that are about sixteen times smaller than their 0402" equivalents. At the other end of the scale the new line will enable OE to fit a range of quite large surface mount connectors that would previously have to be fitted by hand.
Offshore Electronics' Managing Director, Steve Marshall comments: "The most significant benefit to us of adding a third Yamaha line is that it has enormously improved our manufacturing flexibility and increased our production capabilities. The new equipment has also increased  the range  and type  of  components and packages that we can  fit  for  our customers,  including the leading edge, ultra-miniature components of the future. While none of our customers are currently designing these into their products, they soon will be and we are ready and able to meet their needs with our new state-of-the-art manufacturing capabilities."