Offshore Electronics helps Mecmesin to revolutionise design of its sophisticated motorised force testers
22nd May 2017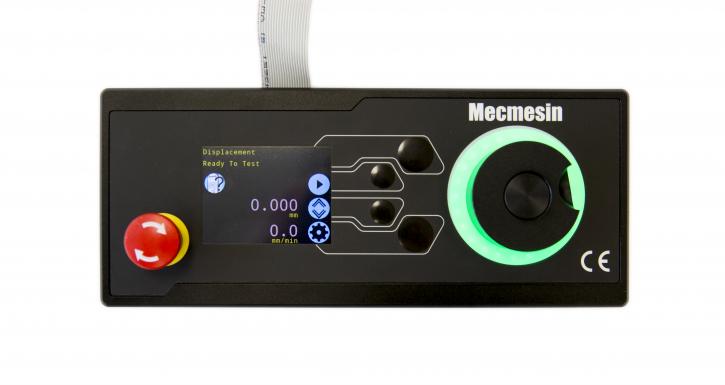 When Mecmesin started to experience supply and quality issues with the printed circuit boards (PCBs) used for the control panels on its motorised force testers in September 2015 it turned to Offshore Electronics for a more reliable alternative.What the leading testing instruments firm got was a lot more than it expected and it credits its partnership with Offshore with helping it to revolutionise the way in which it manufactures one of its best-selling products. As well as resulting in considerable cost and time savings, the success has seen Mecmesin double the number of units it ordered from Offshore in the past year.
 Mark Challacombe, Purchasing and Production Planning Manager at Mecmesin, explains, "Before working with Offshore Electronics we had been facing continuous supply and quality issues with PCB assemblies that we were purchasing from the Far East. Offshore along with Pacer Display were instrumental in re-shoring a particular PCBA (and reverse engineering an LCD display at the same time) for one of our Compact Force gauges. Not only was this achieved in an unbelievable timescale, the quality of the product significantly improved.  We also saw reduced costs and lead-times, while reject rates dropped from almost 30% to zero"
Due to the success of the re-shoring / reengineering project Mecmesin enlisted the help of Offshore for the supply of a new range of PCB's, which were to control their new front panel design.
"We visited the Offshore factory and were suitably impressed by their facilities and capabilities; as a result, this project evolved into full front panel build, with Offshore becoming an essential part of our New Product Introduction (NPI) program", explained Mark Challacombe.
Offshore Electronics experienced production engineers were involved from the product design phase onwards.  This allowed the company to identify a number of potentail inefficiencies, which could be improved to aid production and testing of the panel assemblies, and minimise any rework in the unlikely event of a panel developing a fault. 
"By rethinking and optimising the assembly process we came up with a solution that was easy to test and then adjust if necessary," says Dan Attewell, Sales Engineering Manager at Offshore Electronics. "This not only cut waste, but it also reduced the number of steps that needed to be taken to make it quicker and cheaper to manufacture a high quality control panel for use on Mecmesin's precision-controlled compression and tension testing equipment."
The control panels are now delivered to Mecmesin as a complete unit that is tested and ready to be plugged-in, to complete the MultiTest-dV test machines; these are used worldwide in every industry from pharmaceuticals and cosmetics, to aerospace and automotive. Aside from improvements in quality and efficiency, Mecmesin now has more time to focus on further enhancing the remaining parts of the device.
"The panel is an integral part of our MultiTest-dV testers as it forms the user interface," Mark Challacombe adds. "We now have a component that is more reliable and far superior than ever before, and the technical expertise from Offshore has meant that implementing the process was seamless. Offshore Electronic's technical knowledge and outstanding customer service have been critical to the success of this project.  The partnership ticks all the boxes for us and ensures customer satisfaction all round."