Offshore Electronics passes first remote ISO9001:2015 Recertification Audit with flying colours
9th July 2020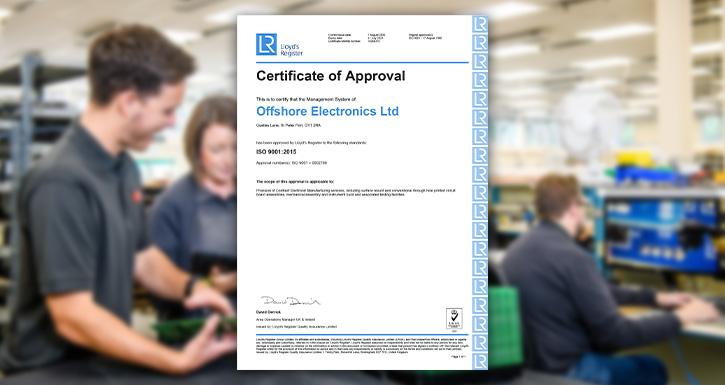 We've taken part in what is believed to be one of the first ever ISO9001 Recertification Audits to be carried out remotely due to the Covid-19 pandemic. And we're delighted to announce that we've passed without any minor or major non-conformities, with what the assessors described as an 'extremely strong and well-structured' management system. 
Conducted every three years by assessors who normally visit each manufacturing site over a number of days, ISO9001 Recertification Audits form a critical part of our ongoing commitment to achieving the highest standards of quality across all areas of the business, from production through to customer service and technical support. 
Due to the impact of the Covid-19 pandemic, it was impossible for assessors to visit our site in Guernsey.  Quality Engineering Manager, Sam Loveridge, explains, "We discussed the situation with our assessors from Lloyd's Register and agreed that it would be possible to carry out the audit remotely.  We had to develop a procedure that allowed the assessors to monitor and thoroughly review our processes, and which fully complied with their stringent regulatory requirements."
The solution included extensive use of video interviews with different members of the Offshore Engineering team, some of whom were working from home, plus the interrogation of the management system documentation.  There were also video walk-throughs of the factory, including goods-inwards, manufacturing, assembly, testing and despatch.   
"The video walk-throughs were guided by the assessors to ensure that they could inspect all aspects of the manufacturing operation, and proved extremely effective", adds Sam.  "Overall, the process was a great success and, although face to face meetings and site visits are still preferable, the remote audit demonstrated what can be achieved using modern online conferencing and live video streaming." 
The ISO9001 recertification for Offshore Engineering is now effective for a further three-year period, subject to normal annual surveillance and focus visits by Lloyd's Register. 
To find out how we can help you with your next contract electronics manufacturing project please contact [email protected].