Offshore Electronics reinvests in Bambu Lab X1 3D Carbon Printer
16th October 2023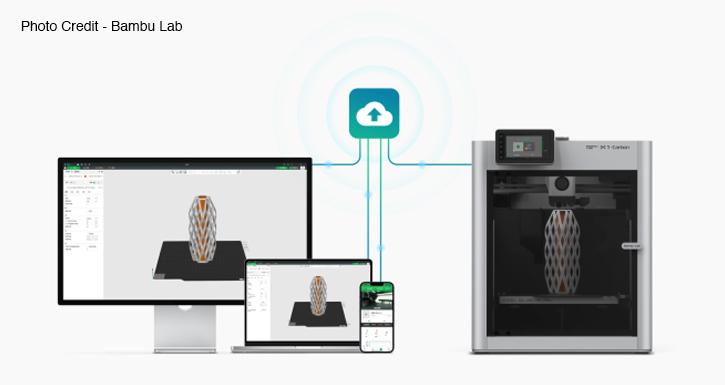 Five years on from our original investment into the 3D printing world, we are happy to announce an upgraded unit has been purchased and installed by Offshore Electronics this week.
The Bambu Lab X1 Carbon 3D Printer delivers unmatched precision, speed, and versatility. Equipped with a high-quality carbon fibre frame, the printer can effortlessly handle our 3D printing requirements across the factory.
The X1 also includes extra cooling, a hardened nozzle and a carburized drive gear, which unlocks a wider selection of materials, including PA, PC, PET, and TPU, and specializes in carbon fibre and glass fibre reinforced polymers that are key for us when using fixtures at high temperatures in various heat-sensitive processes that our PCB's might go through. This also allows for greater flexibility in terms of the types of designs that can be created. Production Engineer, Phillip Bell in charge of managing the project was excited to get his hands on the new kit soon as it arrived on island, he says:
"The install was effortless, the 3D printing market has certainly come a long way from where it was five years ago, the speed and quality of this new machine is far superior to its predecessor. I chose this machine to replace our last unit mainly because of the integration with AI.
The Bambu brings micrometer level precision into 3D printing and the system probes the nozzle height, calibrates the flow, and scans the first layer, so the possibilities are endless. This will make a huge difference to our time management as it has taken away the manual intervention we had to do previously; this means we can focus our time in other areas whilst the print is in process and improves repeatability for recurring designs.
It is clear that Offshore Electronics are happy to continue investing in suitable equipment ahead of when required to improve efficiency. I can't wait to put the new machine through its paces and see what else we can create as solutions for manufacturing"