Ongoing investment enhances CEM productivity
31st August 2018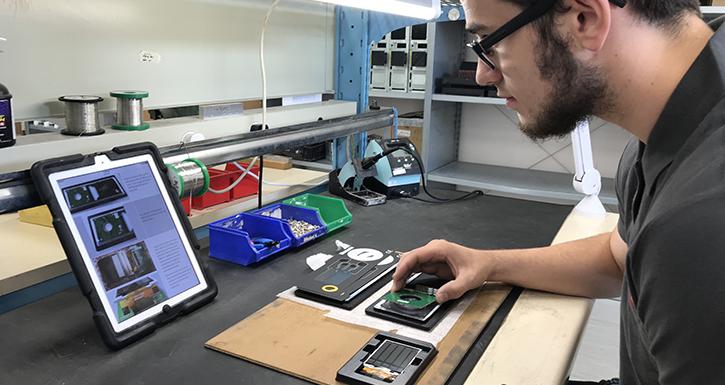 To improve our manufacturing efficiency and levels of quality still further, we're continuing to invest heavily in advanced tools and resources. Our latest innovation is to equip our production teams with shopfloor computer tablets, to provide them with the most up to date information at each key stage of the contract electronics manufacturing operation.
All members of our team can tap into the latest systems, using the handheld tablets at their workstations, to ensure that every task is carried out effectively. The tablets are linked to an Intranet, which includes a database of the products we manufacture and where details of each production step are kept up to date.
From electronics production and assembly, test and quality control, to customised packaging and lineside delivery, our team can now find all the details in one area. The tablets are updated in real-time, ensuring that the most recent documents and revisions to production techniques and processes are instantly available to every member of the team.
Each stage of the contract electronics assembly operation is covered in considerable detail, including diagrams and images to outline where every component needs to be placed on each board. This helps to reduce the risk of errors and improves the speed and efficiency with which staff can work.
To find out more about our unique approach to contract electronics manufacturing, please email [email protected]