Research shows why customers outsource contract electronics manufacturing
24th October 2018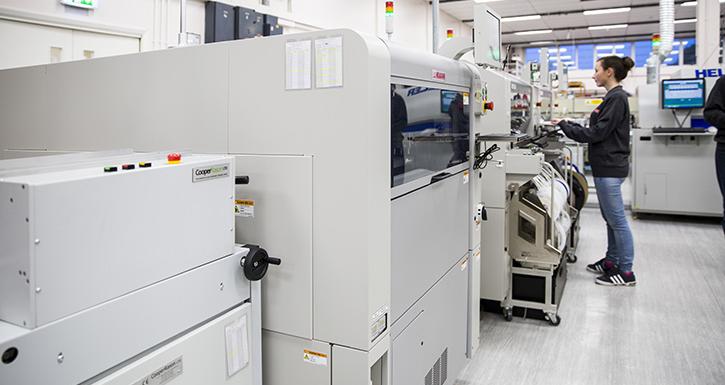 To improve our manufacturing efficiency and levels of quality still further, we have recently conducted a detailed research survey of our customers. We conducted this research to understand the challenges they face and why they outsource to a Contract Electronics Manufacturing (CEM) company for their electronic manufacturing requirements.
From our research, there are four main reasons for outsourcing contract electronics manufacturing:
1. Electronics manufacturing is not seen as a core skill
For 75% of our customers, electronics manufacturing is not seen as a core skill. For example, a number of customers have in the past considered setting up dedicated in-house electronics manufacturing facilities but eventually concluded that their focus should be on their core skill sets. For the more specialised manufacturing processes, such as printed circuit board assembly (PCBA), this would instead be outsourced to a CEM company that had already made the investment required to produce the highest quality electronics assemblies.
2. Access to specialised skills and knowledge
Over 50% of our customers don't have the access to specialised electronics manufacturing skills and knowledge, so partnering with Offshore Electronics makes sound commercial sense. We've almost three decades of experience in providing a complete and cost-effective solution for electronic manufacturing requirements. Our experienced engineers understand both the business requirements and the technical demands of our customers. We have a 60 strong team, a high percentage of whom have been with the company for many years, offering a unique combination of knowledge and skills that add real value to every customer.
3. Faster speed to market
Over 50% of our customers stated that faster speed to market is a key reason for outsourcing. For example, a number are innovative product developers, handling all design and prototyping in-house, but then bring in specialists when they need to upscale and move to full volume manufacturing. Partnering with a CEM enables them to benefit from the knowledge and experience of specialised electronics manufacturing, to eliminate production inefficiencies while producing each PCBA or electro-mechanical assembly as quickly as possible. A classic example of this relationship is our New Product Introduction (NPI) service, which is designed to help OEMs drive down production costs, improve quality and reduce time to market; to read more about NPI click here.
4. Not prepared to make the investment in systems (especially SMT) and people
A significant proportion of our customers chose to outsource as they do not feel it makes commercial sense to make the high levels of investment in the latest electronic manufacturing systems, especially SMT, or to recruit or train the specialist staff required.  It was generally felt that although the funding wasn't normally an issue, any investment would be better made in their core business functions, rather than in systems and staff that may not be fully utilised or would need adapting every time a new product line was introduced.  By outsourcing the contract electronic manufacturing to Offshore Electronics they had access to the most advanced technology and best people, yet retained optimum manufacturing flexibility.
A CEM partnership enables electronics companies to focus on their core business, the design, marketing and selling of electronic products. The manufacturing processes including testing and assembly can be outsourced to a specialised electronics manufacturer, such as Offshore Electronics, who deliver a consistent standard of quality thanks to their advanced production facilities and highly-skilled, IPC certified staff.
By conducting this research with our customers, we have a better understanding of why they outsource and the advantages of using a CEM as a manufacturing partner. To find out more about our unique approach, please email [email protected]