4 benefits of outsourcing electronics manufacturing
5th March 2020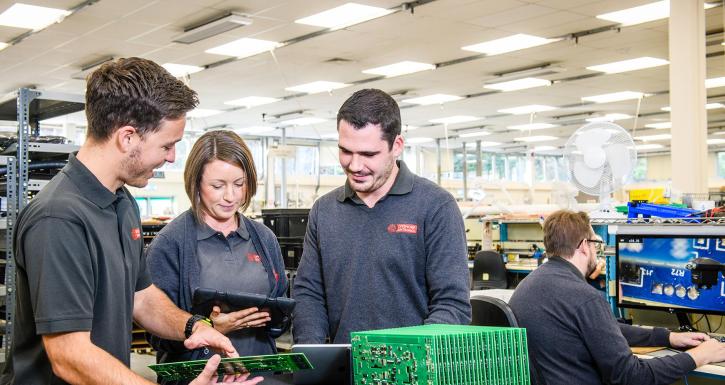 Small and mid-size enterprises (SMEs) designing and developing the most innovative electronics-based products are often curtailed in their commercial ambitions by limited in-house manufacturing resources. The solution is outsourcing but choosing the right contract electronic manufacturing (CEM) partner can yield many more benefits besides increased capacity. 
Many innovative companies have limited in-house manufacturing resources. Instead, their core value lies in the skilled staff and the Intellectual Property (IP) the enterprise has created. Nonetheless, they still need to embrace an agile business model in order to compete in fast-moving markets against potentially larger competitors equipped with more resources. 
Offering services such as buying components, printed circuit board (PCB) assembly, compliance testing and shipping products, a CEM can support SMEs to focus on their core competencies and building their business. By replicating the manufacturing model of companies such as Apple and contracting out manufacturing to specialists, even small and medium electronics companies are free to emulate their success. 
But, in addition to manufacturing capacity, here are 4 further benefits of outsourcing electronics manufacturing to a CEM: 
1. Agility and responsiveness

 
By avoiding the need to maintain large-scale industrial operations, SMEs are able to build an agile and responsive business. Rather than investing in factory space, machinery and extra staff, partnering with CEMs gives SMEs the flexibility to change direction rapidly and respond to market changes.  
Focused purely on manufacturing, CEMs have all the specialist staff and machinery, manufacturing capacity and buying power needed. Not only does this capability deliver necessary agility, it also ensures that products are top class.
Why not download our route to manufacturing agility guide below to learn more?
2. Economies of scale

 
Electronics manufacturing typically works on a huge scale. Working with an experienced CEM can therefore potentially bring significant cost savings. For example, a company buying a surface mount machine would be unlikely to use its full capacity. By contracting out manufacturing, sub-optimal investments are avoided.  
Furthermore, with a wide range of customers, purchasing is optimised by CEMs and better pricing is usually achieved across common components where volumes impact costs. This tends to reduce the cost of devices with obvious competitive advantages. Contrary to common perception, this approach is particularly well-suited to SMEs which are likely to benefit from the services of a CEM. 
3. Accelerating R&D and reducing time to market

 
Outsourcing enables original equipment manufacturers (OEMs) to accelerate R&D by freeing them to focus on core competencies. In addition, with their considerable industrial design and engineering expertise, top tier CEMs are able to help redesign products to reduce complexity and eliminate costs, as well as improve and accelerate manufacturing of the product. Offering a prototyping service can help SMEs reduce time to market whilst improving product reliability and performance.
There are also important value-added services available from quality CEMs, for example in achieving necessary ISO accreditations, or meeting compliance rules for the EU. For small, design-led companies especially, regulations are becoming a significant burden given that achieving an ISO-approved facility takes a lot of time and cost.
Why not read our time to market guide below to learn more?
4. Improved supply chain management

 
CEMs are able to execute specialist supply chain management. With access to large networks of vendors and suppliers, CEMs are able to manage issues such as shortages and issues such as component obsolescence easily. Electronic companies benefit from vendor consolidation and services such as just in time supply chains but CEMs are also able to handle tasks such as warranties, repairs and returns on behalf of their customers.
The benefits of using reliable CEM partners is demonstrated by EM Electronics, a small family-owned business focused on the development of highly specialised ultra-low voltage amplifiers and DC measuring instruments. EM Electronics founder and Managing Director, Ernest Moorey, explains: "The way in which each device is manufactured is critical if we are to ensure optimum quality and consistency between instruments.
"We eventually concluded that we should focus on our core skill sets, designing and developing instruments and supporting our customers, and then outsource some of the more specialised manufacturing processes." Partnering with Offshore Electronics was key to EM Electronics' ability to ensure the consistent quality of its instruments. 
Ultimately, CEMs allow small and medium enterprises to save money and improve quality even while maximising the capability for flexibility and agility that are proving ever more vital to the commercial success of electronics companies.
Here at Offshore Electronics, we are here to help you outsource your electronics manufacturing - why not download the case study below to find out more about our partnership with EM Electronics?