Increase agility through outsourcing
17th October 2019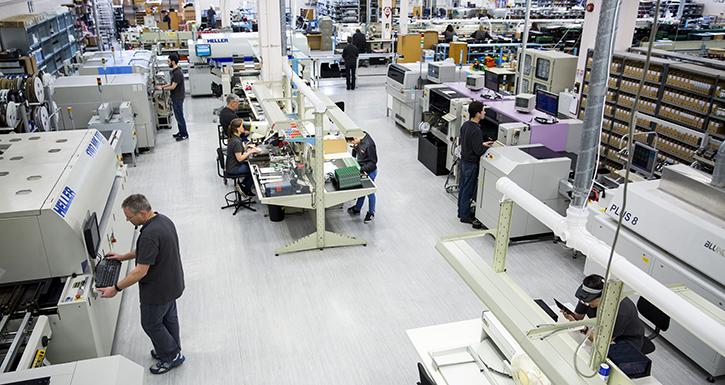 By 2025, it is estimated that the global worth of Internet of Things (IoT) technologies will reach $6.2 trillion, with $100 trillion of value created for both industry and society through the adoption of these technologies.
Clearly, this is good news for manufacturers of electronics. As we have seen, however, only those agile enough to take advantage of these opportunities and to cope with any difficulties that might arise, such as fluctuations in the level of demand, labour costs, supply chain instability and broader market events, will truly thrive in this business environment. By reacting quickly and effectively to the needs of the market, agile manufacturers will survive and prosper under conditions of unpredictable change.
Outsourcing to a contract electronics manufacturer (CEM) can play a vital role in achieving agility, as it can help a business to enter and adjust to new or changing markets rapidly.
Reducing investment
Outsourcing to a good CEM eliminates the need to make high levels of investment in the latest electronic manufacturing systems, especially high-volume surface-mount technology (SMT) lines, that might be needed to enter such markets and to recruit or train specialist staff.
While funding such investments might not be an issue, the money can be put to better use. Investing in maintaining and developing core business functions for example, rather than in systems and staff that may not be fully utilised or may need to be changed every time a new product line is introduced. By outsourcing to a CEM, manufacturers of electronics can get access to the most advanced technology and best people yet retain the high degree of production flexibility required to operate in rapidly evolving markets.
Through outsourcing, the component supply chain can be made more resilient and efficient, as the CEM will have the necessary relationships to source parts in volume from accredited suppliers.
Reducing time to market
Outsourcing can also reduce the time it takes to bring a product to market. Innovative product developers can handle all design and prototyping in-house, but then bring in specialists when they need to upscale and move to full volume manufacturing. Partnering with a CEM enables them to benefit from the knowledge and experience of specialised electronics manufacturing, to eliminate production inefficiencies while manufacturing each printed circuit board assembly (PCBA) or electro-mechanical assembly as quickly as possible.
Critical difference
Today's fast-paced commercial environment means that success frequently depends on the ability to respond quickly and efficiently to changes in technology or market conditions. In this environment, outsourcing all or part of your electronic manufacturing can make the critical difference between success and failure.
Why not download our route to manufacturing agility guide here to learn more?